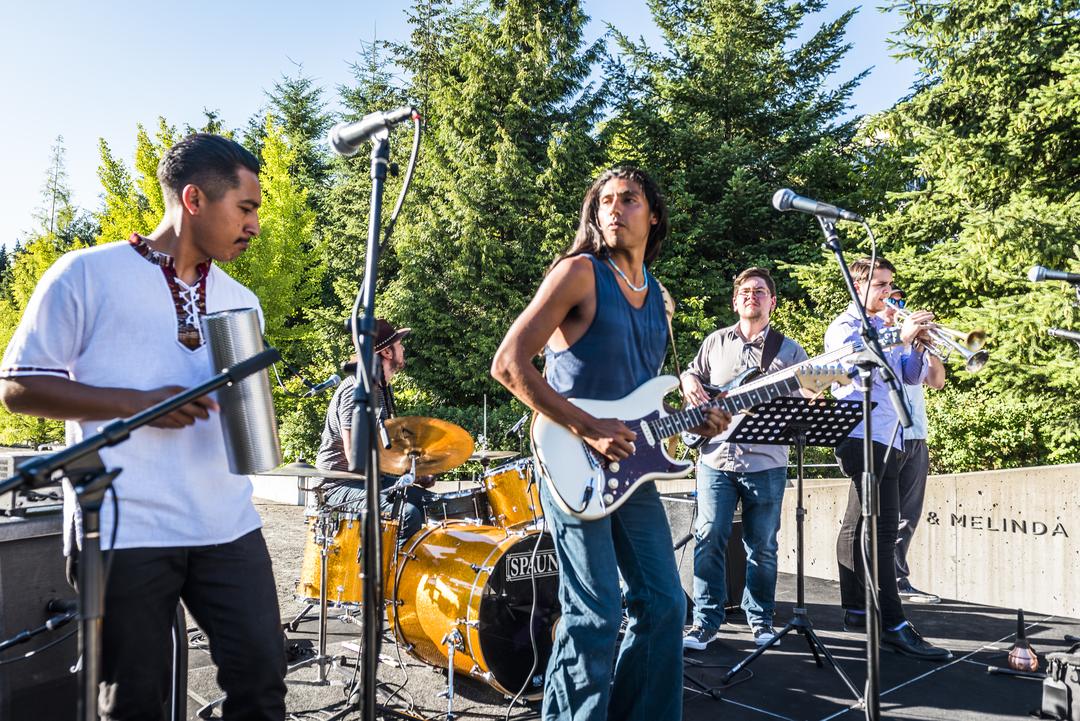 Introduction: 6:15 pm
Sondra Segundo
Sondra Segundo is a member of the Haida Nation, and is an accomplished visual artist, storyteller, singer and educator. She has created a variety of NW Coast Native artwork, graphics and illustrations, composed multiple songs and has published several children's books.
SAM Performs: 6:30–8 pm
Orquestra Pacifico Tropical
Guided by Orquestra Pacifico Tropical, you'll travel through the racing thumps and rhythms of coastal Colombia and the psychedelic guitar explorations of the Peruvian rain forest. Orquestra Pacifco Tropical is dedicated to sharing the music of Central and South America with the people and dance floors of the Pacific Northwest.
SAM Creates: 6–8 pm
Recycled Florals
Join artist Jennifer Lawrence Bennett and create artworks out of recycled aluminum cans. Get creative and cut, fold, and decorate cans to create plants found in the park.
Food Trucks: 5:45–7:45 pm
Bread & Circuses, Pecos Pit BBQ, Hallava Falafel, and Puft Waffles
TASTE will also be serving wine and dinner fare.
Kids Corner in PACCAR Pavilion: 6–8 pm
Take a break from the sun and come play in the PACCAR Pavilion. Families can enjoy the Kids Corner and drop-in art making at the SAM Creates station. Spend time drawing at the kid-sized easels and capture the sculptures, plant life, and beautiful views of the Olympic Mountains and Puget Sound. Relax in a beanbag chair, read a new book, do a puzzle, or create your own masterpiece. Kids of all ages are welcome!