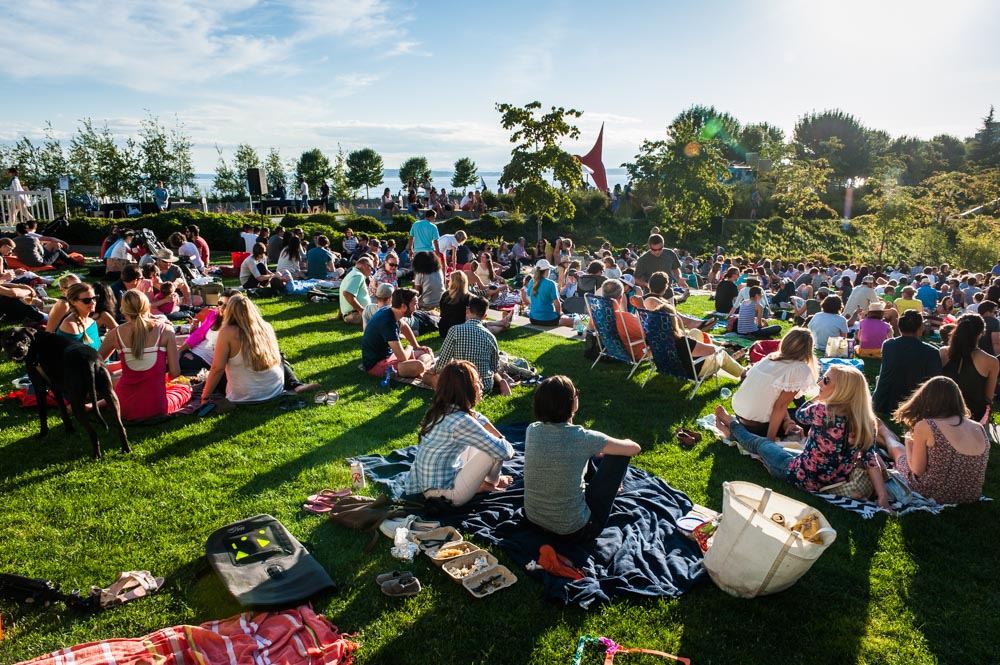 Sponsored by


Summer at SAM Kickoff presented with 


SAM Performs: 6:30-8 pm
Deep Sea Diver
Deep Sea Diver urgently and deliberately moves you from rock experimentation to dreamy soundscapes, from drum and bass grooves to angular danci-ness, and from full-fledged orchestration to bare bones simplicity.
SAM Creates: 6-8 pm
Garden Viewfinders with Romson Regarde Bustillo
Using mixed media collage materials, create viewfinders inspired by Tamiko Thiel's augmented reality app, Gardens of the Anthropocene. Change the lens you see the world through and explore the Olympic Sculpture Park with your own visual narrative.
SAM Creates: 6-8 pm
Bleu de Travail (working blues) with Izzie Klingels
Get a hint of what's to come during Saturday Open Studio Sessions by stopping by to make block prints on recycled fabric with artist, Izzie Klingels. Create images that reference the commercial, agricultural and industrial importance of indigo and contribute to the temporary communal installation that Klingels will be working on every Saturday in July.
Friends of Waterfront Seattle: 6-8 pm
Design the Future Aquarium Plaza Playground
The future Waterfront Seattle Aquarium Plaza will feature a creative play area for kids – but the final design isn't complete! Use your imagination to design and build your own model play structure with Friends of Waterfront Seattle.
My Favorite Things Tour: 7 pm
Florangela Davila
Join Forterra's Director of Voices of the Region, Florangela Davila, as she guides you through her favorite works of art in the park. Davila started out as a daily newspaper reporter and now freelances stories for public radio, has strong opinions about what makes cities vibrant, and believes all outdoor adventures are best accompanied with wine. Or, scotch.
Food Trucks: 5:45-7:45 pm
Cheese Wizards, Bread & Circuses, Hallava Fallafel , POP Up
Taste will also be serving wine, beer, cocktails and snacks.
Kids Corner in PACCAR Pavilion: 6-8 pm
Take a break from the sun and come play in the PACCAR Pavilion. Families can enjoy the Kids Corner and drop-in art making at the SAM Creates station. Spend time drawing at the kids-sized easels and capture the sculptures, plant life, and beautiful views of the Olympic Mountains and Puget Sound. Relax in a beanbag chair, read a new book, do a puzzle, or create your own masterpiece. Kids of all ages are welcome!