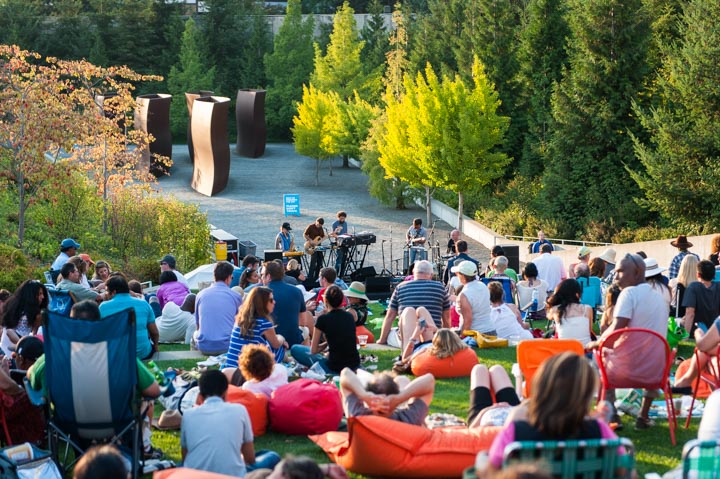 SAM Performs: 6:30-8 pm
Jes Raymond & The Blackberry Bushes
Jes Raymond & The Blackberry Bushes draw from the deep roots of American traditional music to create a playful and resonant sound with both twang and sophistication. Elements of jazz, classical, pop, old-time and bluegrass saturate this modern string band sound that is buoyant, bold, and like their thorny namesake, rooted and growing.
SAM Creates: 6-8 pm
Blackberry Paint with Janet Fagan
Taking a cue from tonight's band and from the Asian Art Museum's exhibition, Mood Indigo, learn about other natural pigments by creating abstract paintings from blackberry juice.
Community Partner: 6-8 pm
City Fruit
Urban fruit trees are valuable community resources- learn how you can take care of them and share healthy fruit with your community!  Stop by City Fruit to find more about urban fruit tree harvesting and fruit preservation.
My Favorite Things Tour: 7 pm
Dylan Neuwirth
My Favorite Things tours bring some of the most opinionated, brilliant and fascinating artists, cultural producers and community figures into the park to discuss their favorite works of art. Dylan Neuwirth is a posthuman contemporary artist working with text, sculpture, neon, digital media and public art to establish the relevance of personal identity in a data-driven, networked world.
Food Trucks: 5:45-7:45 pm
Jemil's Big Easy, Raney Brothers BBQ, Hallava Falafel, POP Up
Taste will also be serving wine, beer, cocktails and snacks.
Kids Corner in PACCAR Pavilion: 6-8 pm
Take a break from the sun and come play in the PACCAR Pavilion. Families can enjoy the Kids Corner and drop-in art making at the SAM Creates station. Spend time drawing at the kids-sized easels and capture the sculptures, plant life, and beautiful views of the Olympic Mountains and Puget Sound. Relax in a beanbag chair, read a new book, do a puzzle, or create your own masterpiece. Kids of all ages are welcome!