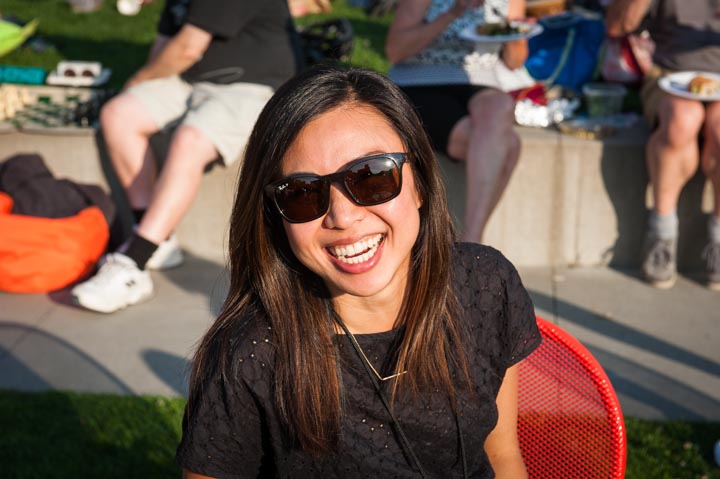 All are welcome as SAM expresses special appreciation for our Members with discounts and perks. Make sure to bring your SAM member card and stop by the membership table to pick up giveaways. Not a member yet? Sign up on Members Night and receive a $10 discount.
SAM Performs: 6:30-8 pm
Grace Love Band
Join us for Art of Jazz as members of the Grace Love Band unite for hot summer funk with powerful vocals and an agile band. Come listen to some of the best local jazz, plus sign up to win prizes from KPLU! Sponsored by KPLU 88.5 and Earshot Jazz.
SAM Creates: 6-8 pm
Nature in Print with Sandra Farmer
Respond to SAM's exhibition Graphic Masters and take inspiration from the abundant native plantings in the park by using natural materials to create your own monoprint. Unlike most forms of printmaking, a monoprint can only be made once.
My Favorite Things Tour: 7 pm
Tiffany Ta
My Favorite Things tours bring some of the most opinionated, brilliant and fascinating artists, cultural producers and community figures into the park to discuss their favorite works of art. Tonight's tour is led by Tiffany Ta, an innately inquisitive designer learning to creatively code. Tiffany's insatiable quest to learn has brought her to positions ranging from creative director for a magazine to production designer for a movie, and from videographer for an LGBTQ travel guide to a DJ/technician for a radio show. Currently she is following her intuition and diving into the world of creative coding and doing freelance design.
Food Trucks 5:45-7:45 pm
Cheese Wizards, PLUM, Seoul Kitchen, POP Up
Taste will also be serving wine, beer, cocktails and snacks.
Kids Corner in PACCAR Pavilion: 6-8 pm
Take a break from the sun and come play in the PACCAR Pavilion. Families can enjoy the Kids Corner and drop-in art making at the SAM Creates station. Spend time drawing at the kids-sized easels and capture the sculptures, plant life, and beautiful views of the Olympic Mountains and Puget Sound. Relax in a beanbag chair, read a new book, do a puzzle, or create your own masterpiece. Kids of all ages are welcome!