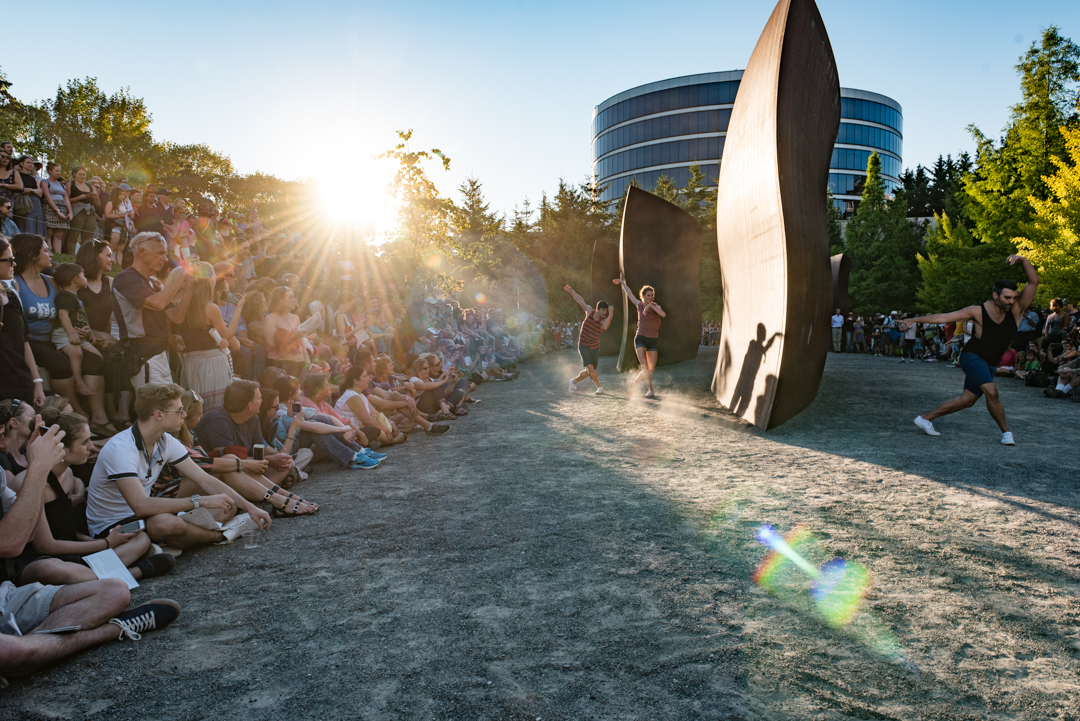 SAM and the Pacific Northwest Ballet team up for a special night of original site-specific dance works with local choreographers and companies.
Noelani Pantastico + PNB at Alexander Calder's The Eagle
Eva Stone + Au Collective at Richard Serra's Wake
Price Suddarth + The YC at Tony Smith's Wandering Rocks
Dani Tirrell + PNB at Roxy Paine's Split 
Summer at SAM: Sculptured Dance is FREE with RSVP requested. Check in on-site to receive your free thank-you gift.
PLEASE NOTE: We expect very large crowds for this program. Although we don't anticipate reaching capacity at the park, your RSVP does not guarantee entry. Visit the Pro Tips section for more helpful information about visiting the park.
SAM Performs, 5–8 pm
Jyun Jyun
Listen to the stylings of Jyun Jyun, a multi-instrumentalist musician who creates multi-sensory projects that explore the boundaries between organic instrumentation and electronic. Expect basslines, head nodding beats, and impactful musicality.
SAM Creates, 5–8 pm
Elements in Motion with Romson Regarde Bustillo
Take inspiration from the roaming dancers and still sculptures! Design a kinetic sculpture and imagine the interactions between the environment, people, and your unique artwork.
Food Trucks, 5–7:45 pm
Bread & Circus, Off the Rez, Lula Salads, Jemil's Big Easy, Cheese Wizards, Hallava Fallafel, POP Up, & Molly Moon's Trike
TASTE will serve wine and dinner fare.
Kids Corner, 5–8 pm
Take a break from the sun and come play in the PACCAR Pavilion where families can enjoy the Kids Corner and drop-in art making at the SAM Creates station. Spend time drawing at the kids-sized easels and capture the sculptures, plant life, and beautiful views of the Olympic Mountains and Puget Sound. Relax in a beanbag chair, read a new book, do a puzzle, or create your own masterpiece. Kids of all ages are welcome!