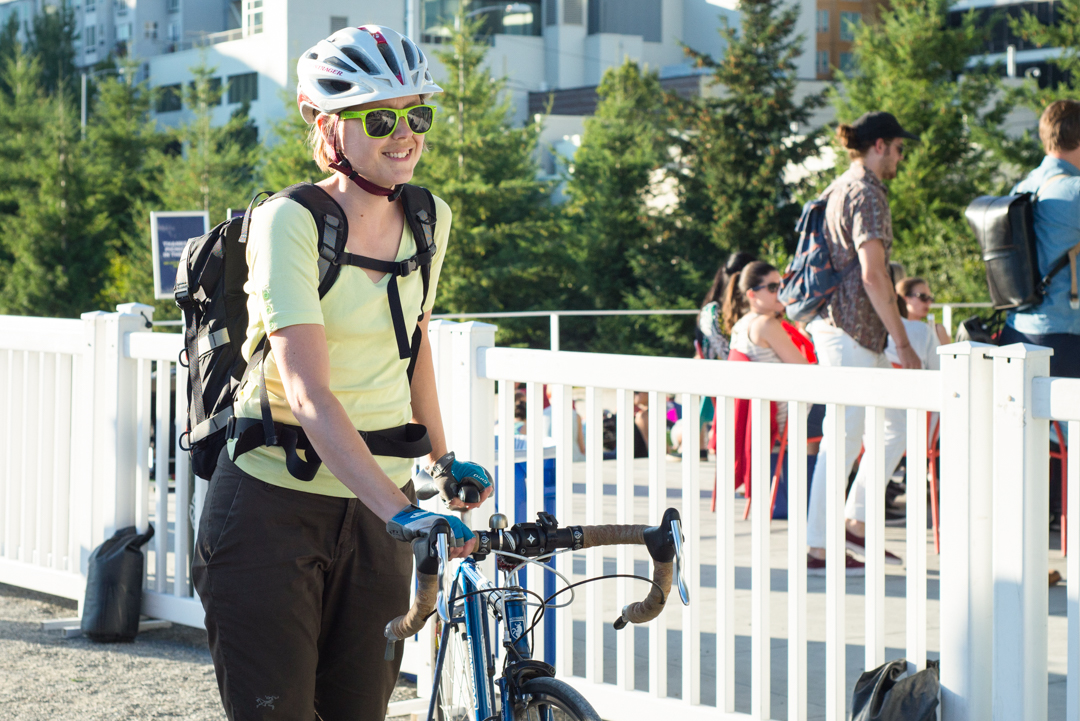 Why do you power your pedals? To beat the traffic? Save the planet? Improve your health? Explore your community? Rock some helmet hair? Whatever your reasons, grab your friends and bike to the park to celebrate cycling. 
SAM Performs, 6–8 pm
Skates! + Wiscon
Skates! opens the night with surf-pop grooves. Their care-free, energetic show is full of melodic-goodness. You will fall in love. Skates! will make you.
Wiscon is the best band for the beach at an end of the world party. Their upbeat joy-wave tunes will carry you into the evening feeling raucous and revved up with synthy garage pop and fuzzy harmonies.
Community Partner, Bike Works
Bike Valet 5:30-8pm
The PACCAR Pavilion garage will be closed and open for a free bike valet, facilitated by Bike Works!
BikeMobile 6-8pm
The BikeMobile is Bike Works's mobile repair station offering low-cost and sliding scale bike repair services throughout Seattle. Roll by and get a quick tune-up!
SAM Creates, 6–8 pm
Handle Bar Decor with Janet Fagan
Spruce up your bicycle's look with DIY handle bar decorations. Use recycled inner tubes, pom poms, and other frills to create your customized look.
My Favorite Things Tour, 7 pm
My Favorite Things tours bring some of the most opinionated, brilliant and fascinating artists, cultural producers and community figures into the park to discuss their favorite works of art. This week's tour is led by Mike Buendia, Reuse & Recycle Coordinator at Bike Works.
Food Trucks, 5:45–7:45 pm
Hallava Fallafel, Off the Rez, Biscuit Box, & POP Up
TASTE will serve wine and dinner fare.
Kids Corner, 6–8 pm
Take a break from the sun and come play in the PACCAR Pavilion where families can enjoy the Kids Corner and drop-in art making at the SAM Creates station. Spend time drawing at the kids-sized easels and capture the sculptures, plant life, and beautiful views of the Olympic Mountains and Puget Sound. Relax in a beanbag chair, read a new book, do a puzzle, or create your own masterpiece. Kids of all ages are welcome!