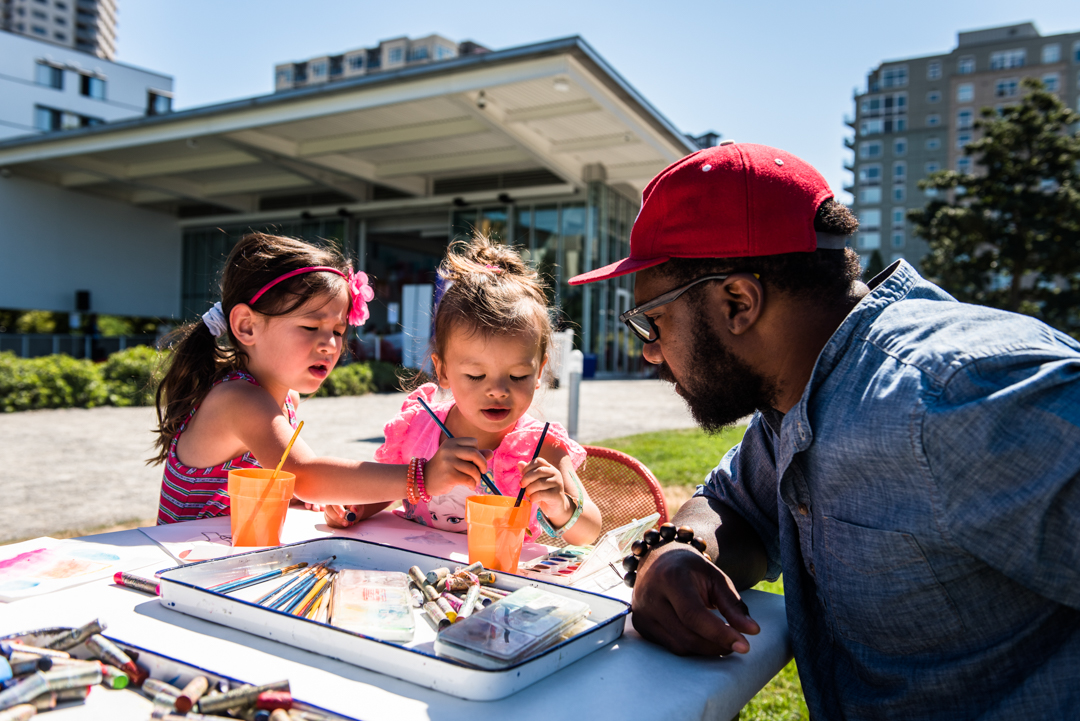 Yoga: 9-10 am
Vinyasa/Flow (all levels)
Bring your summer mantra to the mat with a free outdoor yoga flow class with instructors from 8 Limbs Yoga Centers. Bring your own mat, water, and any needed supplies. Rain or shine!
Please note there will be no 10:30 am yoga class on July 21.
Family Field Day: 11 am-3 pm
Pack up the family and head to the park as we invent creative ways to help take care of our environment. Enjoy family-friendly yoga, art activities, performances, and community partners. 
SAM Performs: 11:30-2:30 pm
Show Brazil! brings the soul of Brazilian culture in a high energy performance. Enjoy performances from this Northwest band and become a part of the show with interactive, drop in lessons throughout the day!
Community Partner Activities: 11 am-3 pm

Bureau of Fearless Ideas
Launch
Tiny Trees Preschool 
Waterfront Seattle 
and more!
SAM Creates: 11 am-3 pm
Devils Club Girl Workshop with Arianna Johnny-Wadsworth
Learn how to Wild-Craft harvest, prepare, and create your own cures with Coast Salish plant medicines like Devils Club. Arianna, a knowledge keeper of Quw'utsun' ways, shares valuable teachings, recipes, and methods taught to her by her grandmother and elders of her nation.  

And join art activities along the Z Path with artists Malia Peoples, Ekaterina Smirnova, and more.
Zumba Kids: 12pm and 1pm
Zumba Kids is the ultimate dance party for young Zumba fans, where they can play it loud and rock it out! Feel fearless on the dance floor. Tennis shoes and water bottle recommended. Instructors: Daren Wade and Jeannette Nolander.
Food Trucks: 12 pm-3 pm
Cheese Wizards and Sweet Bumpas.
Public Tour: 1 pm
Site, Sculpture, Shoreline: Discover the Olympic Sculpture Park
Presented by


Sponsored by
RealNetworks Foundation