Concept sketch for Gardens of the Anthropocene, 2016, Tamiko Thiel, American, born 1957, Seattle Art Museum, 2016 Commission, image courtesy of the artist.
Gardens of the Anthropocene
Tamiko Thiel's augmented reality installation imagines the near future landscape of the Anthropocene—a new geologic time period that bears the imprint of human activity. In Thiel's virtual world, native plants grow and mutate in response to the earth's changing conditions, adapting to the evolving climate and altering the landscape as we know it.
This is not a static view, but an immersive and interactive environment. Using an app as her platform, Thiel invites you to move around the Olympic Sculpture Park and view it in its modified state through your smartphone or tablet. Discover a new epoch as plant life takes over the terrain.
TO ACCESS THIS ARTWORK
Install the free Layar app on your smartphone or tablet. The app works on both Android and iOS platforms.
Allow camera access and location tracking.
Visit one of two kiosks in the Olympic Sculpture Park, open the Layar app and scan the QR code.
Look around! Hold your phone up to look at the landscape through the camera. If "no content," the app hasn't located you—try again!
Free SAM WiFi is available in the Olympic Sculpture Park.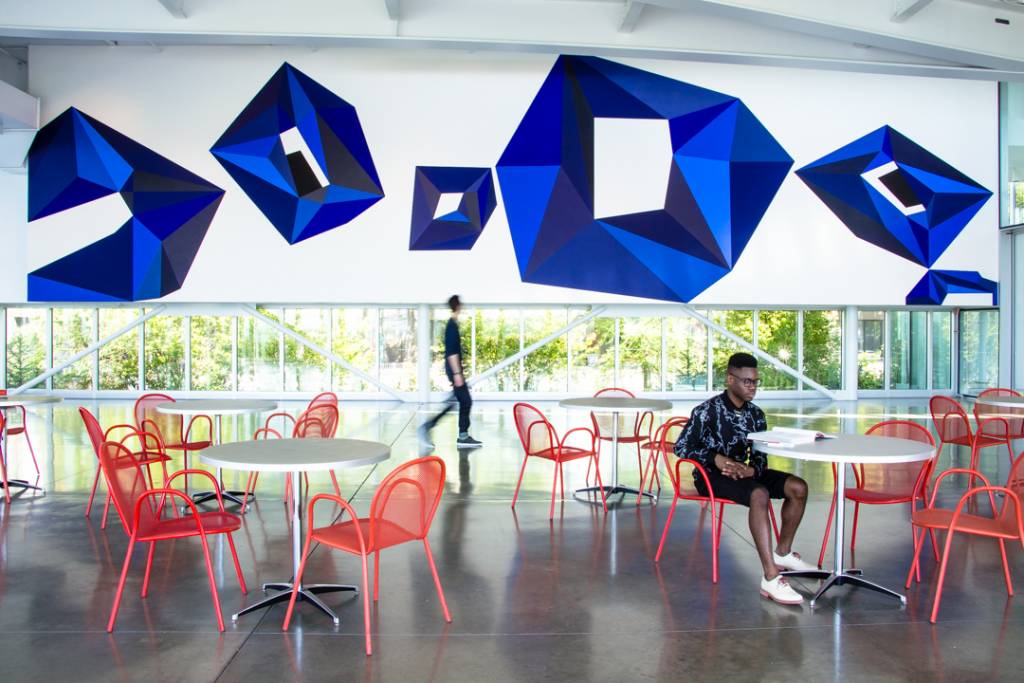 Installation view of Blue Sun, 2016, Victoria Haven, American, b. 1964, acrylic, 57 x 14 ft., Seattle Art Museum Commission 2016, Photo: Natali Wiseman.
BLUE SUN
Seattle native, artist Victoria Haven's process could be described as a form of mapping. Her abstract drawings, prints, and videos are markers of time and place that connect us—by way of association—to history and lived experiences.
Haven's dramatic wall drawing, Blue Sun is inspired by a recent video project where the artist filmed the radical transformation of South Lake Union from her studio window, over a ten-month period.
At certain times during the year, the camera recorded unusual optical effects that made the sun appear as a blue dot. These were not natural phenomena that a viewer could see when looking at the landscape—they were effects created by the optical apparatus, resulting from the light reflected on the camera lens. As the arc of the sun progressed from winter into spring and summer, other patterns emerged from the reflections of the sun on nearby buildings in the city, creating an imaginary geography.
These observations form the basis for the design of the wall drawing, which consists of a cluster of bold crystalline forms that traverse the entire length of the east wall of the Olympic Sculpture Park's PACCAR Pavilion. The forms register as sculptural structure, creating a dynamic dialogue with other sculptures at the park.